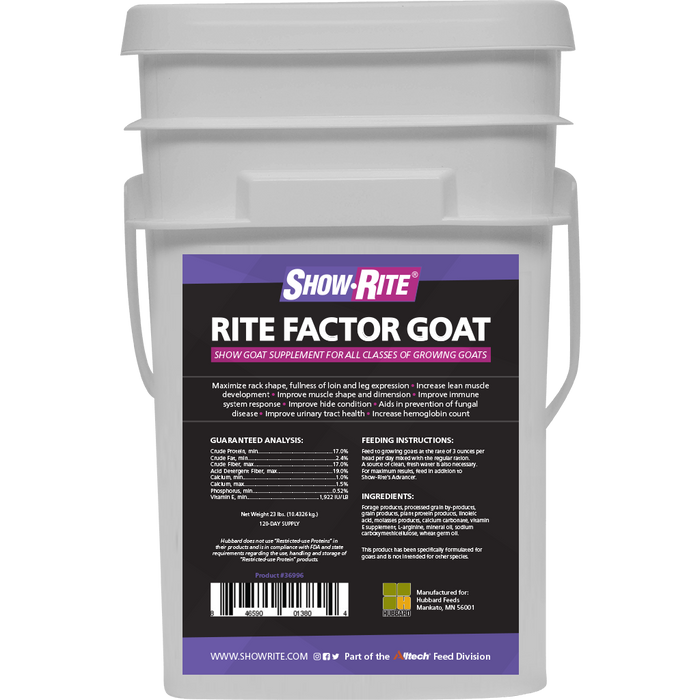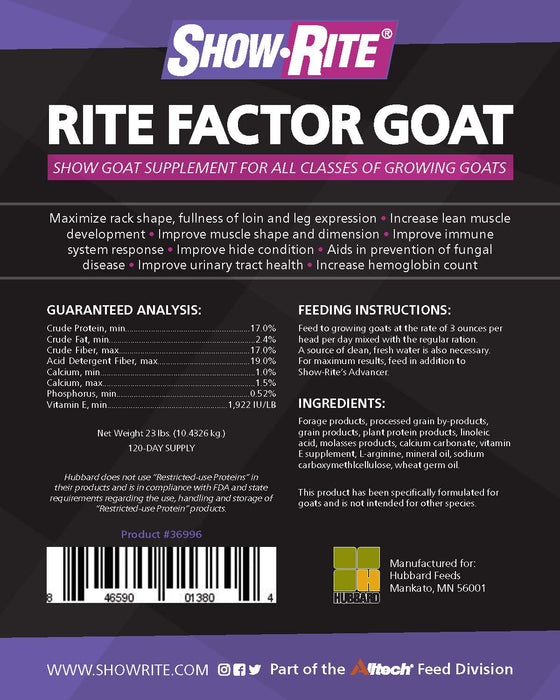 Show Goat Supplement - Show-Rite® Rite Factor
by Alltech
Show Goat - Natural top dressing goat supplements
5.75 lb Pail
Show Goat Supplement Features
Formulated to maximize rack shape, fullness of loin and leg expression
Supports lean muscle development, shape and dimension.
Supports goat immune system response.
General Goat Supplement Information
For proven results in the show goat ring, use Rite-Factor supplement. Results are typically noticeable within a matter of days of feeding. This unique product incorporates innovative technologies to promote the traits which are important in the ring.
Ingredients 
Forage products, processed grain by-products, grain products, plant protein products, linoleic acid, molasses products, calcium carbonate, vitamin E supplement, l-arginine, mineral oil, sodium carboxymethicellulose, wheat germ oil.
Guaranteed Analysis
Crude Protein (min) 17%
Crude Fat (min) 2.4%
Crude Fiber (max) 17%
Acid detergent fiber (max) 19%
Calcium (min) 1%
Calcium (max) 1.5%
Phosphorus (min) 0.52%
Vitamin E (min) 1,922 IU/lb
Directions for Use
Feed to growing show goats at the rate of 3 oz per head per day, mixed with the regular ration.
Enclosed scoop holds approximately 3 oz 
Feeding Tips: Always provide a source of clean, fresh water. For maximum results, feed in addition to Show-Rite Advancer.
Cautions and Warnings
This product has been specifically formulated for goats and is not intended for any other species.