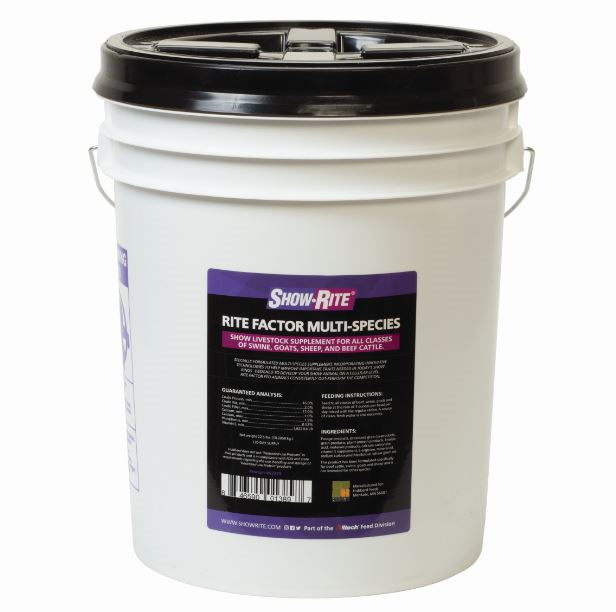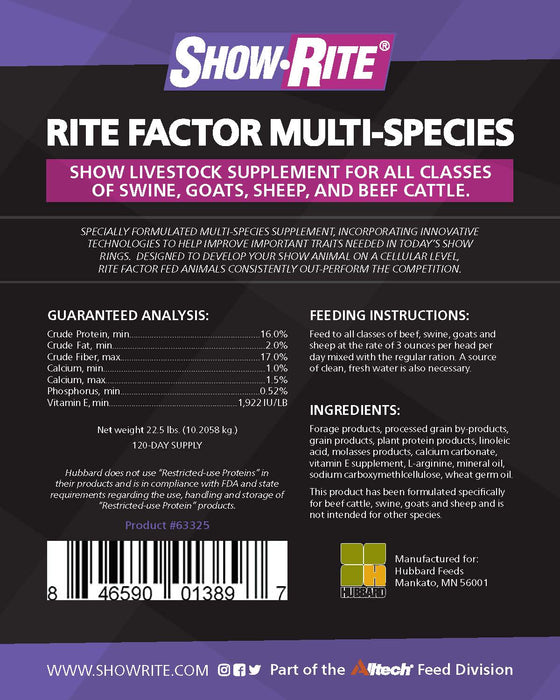 Show-Rite® Rite Factor Multi-Species Supplement
by Alltech
Show supplement for all classes of swine, goats, sheep and beef cattle
22.5 lb Pail
Product Features
Corn-based formula.
Drug-free supplement.
Convenient to feed.
General Information
Specifically formulated multi-species supplement, incorporating innovative technologies to help improve important traits needed in today's show rings. Designed to develop your show animal on a cellular level. Rite Factor fed animals consistently out-perform the competition.
Ingredients 
Forage products, processed grain by-products, grain products, plant protein products, linoleic acid, molasses products, calcium carbonate, vitamin E supplement, l-arginine, mineral oil, sodium carboxymethylcellulose, wheat germ oil
Guaranteed Analysis
Crude Protein (min) 16%
Crude Fat (min) 2%
Crude Fiber (max) 17%
Calcium (min) 1%
Calcium (max) 1.5%
Phosphorus (min) 0.52%
Vitamin E (min) 1,922 IU/lb
Directions for Use
Feed to all classes of beef, swine, goats and sheep at the rate of 3 oz per head per day mixed with the regular ration.
Feeding Tips: Always provide a source of clean, fresh water.
Cautions and Warnings
This product has been formulated specifically for beef cattle, swine, goats and sheep and is not intended for other species.