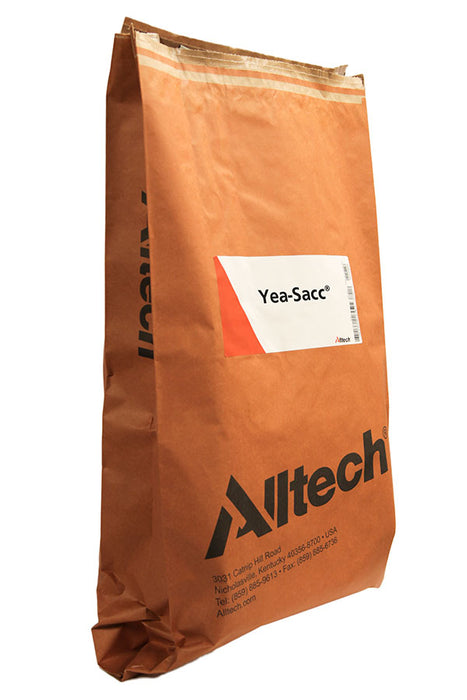 Yea-Sacc® 1026 - Dairy, Beef, Pig, Poultry and Equine Nutrition Supplement
by Alltech Store
25 kg. (55.1 lb.) Bag
Yea-Sacc from Alltech is a yeast culture specifically designed to positively influence animal performance and nutrient utilization in dairy and beef cattle, horses, pigs, poultry, dogs, cats and rabbits.
Benefits

Provides a nutritional platform to aid in higher milk production without compromising the body condition and fertility of the dairy cow.
Reduces fluctuations in gut pH and helps keep rumen microbes steadily active. Yea-Sacc encourages feed digestion and rumen turnover, allowing for greater intake.
Bolsters digestion by supporting the stabilization of rumen pH, facilitating a more efficient and profitable increase in average daily gains.
Assists in the growth of fiber-digesting bacteria in the rumen, supporting the rate and extent of forage breakdown.
Allows for the digestion and utilization of nutrients.
Backs rumen stability, helping the animal avoid the wide variations in rumen pH that interfere with fiber digestion and feed intake.
Provides consistent and highly cost-effective returns through superior performance.
Heightens nutrient utilization to reduce waste and maximize health
Yea-Sacc General Information
Yea-Sacc from Alltech is a highly researched yeast product that consistently assists today's producers as they strive to achieve higher profits. Derived as a yeast culture based on a strain of Saccharomyces cerevisiae and specifically selected for its positive influence on animal performance, Yea-Sacc is effective in dairy and beef cattle, horses, pigs, poultry, dogs, cats and rabbits.
By supporting the rate and extent of forage breakdown and enhancing digestion by aiding in the stabilization of the rumen pH, Yea-Sacc better utilizes nutrients to uphold higher levels of milk production. This affirms optimal body conditioning and contributes to average daily gains.
Backed by more than 35 years of research, producers can safely add variations of Alltech's Yea-Sacc products to the diets of their dairy and beef cattle, horses, pigs, poultry, dogs, cats and rabbits.
Ingredients 
Saccharomyces cerevisiae yeast culture (grown on media of yellow corn, diastatic malt, and cane molasses, dried to preserve its fermenting action)
Guaranteed Analysis
Crude Protein (min) 25%
Crude Fat (min) 5%
Crude Fiber (max) 8%
Acid Detergent Fiber (max) 10.44%
Total Digestible Nutrients (min) 80.2%
Sulfur (min) 0.56%
Phosphorus (min) 1.23%
Potassium (min) 1.81%
Magnesium (min) 0.46%
Calcium (min) 0.19%
Sodium (min) 0.15%
Iron (min) 634 ppm
Manganese (min) 48 ppm
Copper (min) 20 ppm
Zinc (min) 809 ppm
Directions for Use
Mix Yea-Sacc with feed at the rates shown below:
Yea-Sacc® for Beef Cattle:  Receiving cattle 4 lb./ton. Growing cattle 2 lb./ton. Finishing rations 1 lb./ton
Yea-Sacc® for Dairy Cattle:  Calf starter 4 lb./ton. Grower 2 lb./ton. Lactating/Dry cows 2 lb. per ton*
Yea-Sacc® for Pigs: Prestarter/Starter 4 lb./ton. First 14 days 4 lb./ton. Starter/Grower 2 lb./ton. Grower 1 lb./ton. Finishing 0.5 lb./ton. Gestation 4 lb./ton. Prefarrowing/Lactation 4 lb./ton
Yea-Sacc® for Poultry:  Broiler/Layer/Turkey 2 lb./ton
Yea-Sacc® for Horses:  Foals/Mature horses 2 lb./ton*
Yea-Sacc® for Dogs/Cats:  4-6 lb./ton** 
Yea-Sacc® for Rabbits:  4 lb./ton

* Use at a rate of 10 g. per head per day
** Added either at mixing or dusted on post-extrusion
Cautions and Warnings
Store product in a cool, dry location. Always follow label directions.
Frequently Asked Questions
It's critical that dairy farmers realize all of the possible benefits from the large investments they make in their cow herds. Conscientious animal welfare and sustainability practices lead to higher efficiency and productivity while also allowing milking animals to reach their genetic potential.
Yea-Sacc from Alltech is a specifically designed yeast culture supplement that can easily be mixed into a cow's feed to aid in the provision of the right nutritional platform. It not only assists in milk production but also helps support high-producing cows.
At times, dairy cows experience high rumen acidity. Yea-Sacc promotes stability by reducing fluctuations in the pH level. This keeps rumen microbes constantly active, encouraging digestion by fostering forage breakdown. Rumen turnover is thereby affected, making space for even greater intake levels.
Published research has shown that, when added to dairy cow diets, Yea-Sacc enabled milk production to increase by 3.9 to 4.5 pounds per day. Separate studies showed that the pounds of milk per pounds of dry matter intake (DMI) could also increase by as much as 6.6%.
By promoting digestion and the ideal use of nutrients, Yea-Sacc helps producers grow their production and profitability while also optimizing their herds' performance.
Alltech understands that there is an overwhelming amount of information and data available to customers about different yeast variations, and it can get confusing.
How can farmers know which yeast is worth their money and which will just increase their costs?
To answer this question and put our customers' minds at ease, Alltech created the Yea-Sacc Value Test. This comparative ration analysis analyzes whether our uniquely designed live yeast culture additive is really helping consumers maximize their profits.
Finding these critical answers is easy.
Farmers simply send in two small samples of their total mixed ration (TMR) — one with Yea-Sacc added and the other without — and Alltech's industry-leading in vitro fermentation model creates a personalized report based on those samples. The data most relevant to the customers' performance, profitability and efficiency will be supplied, offering each customer peace of mind.
Don't just feed Yea-Sacc and hope it works. Alltech wants our customers to be assured of its value.
The Yea-Sacc Value Test provides the tools producers need before making an investment, confirming exactly what effect Yea-Sacc will have on any given ration. As a result, producers can feed with confidence. Visit https://www.alltech.com/yea-sacc-value-test to request a free sample kit today.
Even when dairy farmers do everything in their power correctly, sometimes Mother Nature doesn't cooperate.
For producers in hot and humid climate zones, heat stress during the summer months can be an enormous challenge, cutting the pounds of milk produced and forage consumed.
Yea-Sacc can help.
Prolonged heat and humidity stress in dairy cows not only decreases milk production but also affects reproduction, increases acidosis and leads to a long list of other costly issues. This can spell disaster for producers.
Yea-Sacc is a yeast-based feed additive beneficial for helping cows combat heat stress by promoting dry matter intake and facilitating rumen microbes.
Whether top-dressed or mixed in grain rations, Yea-Sacc supports rumen microbes' activity and assists with digestion speed and lactic acid-utilizing bacteria. Rumen turnover is then capable of encouraging the appetites of heat-stressed cows.
Producers can be confident that even when the weather heats up, Alltech's Yea-Sacc is working to keep production high.
Feedlots work hard to make the transition to higher energy-based rations as smooth as possible for weaned calves.
Yea-Sacc, a specifically designed yeast culture that backs feed efficiency and performance by fostering ruminal microbial populations, can be of service.
Yea-Sacc is unique in its ability to stimulate both fiber-digesting and lactic acid-utilizing bacteria. With bolstered feed utilization, more energy can be made available to support weight gain, and additionally, less is lost to the environment.
Results have shown that when fluctuations in pH are reduced and rumen microbes are kept active, digestion speed increases, turnover quickens and intakes improve.
The effects of this assisted flow of fiber and forage through the rumen include a potential feed efficiency improvement of as much as 6.6%. Average daily gains are encouraged and profits are affirmed, all in a more efficient manner. This ongoing cycle can reduce the days to slaughter and time spent on-farm and can help uphold the final carcass weights.
Yea-Sacc from Alltech is an excellent tool to help producers facilitate weight gain in their calves from weaning through the finishing period.
Supporting a natural and sustainable livestock industry is paramount to Alltech. That's why we used a proprietary process to develop Yea-Sacc, a unique yeast culture with the ability to assist in feed efficiency and performance by helping modify ruminal microbial populations. Yeast cultures, such as Yea-Sacc, are a safe and easy way to provide the nutritional platform needed to back higher milk production, affirm sustainability, bolster high-producing cows and enhance the digestibility of grain and forage diets.
Our more than 35 years of research allow Alltech to deliver the most consistent product possible. And you can be sure of one thing: All yeasts are not the same. Yea-Sacc is a specifically designed yeast product backed by a carefully crafted database of rigorous studies. This information bank tracks Yea-Sacc's effect on rumen fermentation, fiber digestion, growth and feed efficiency. It can be safely fed to beef, dairy, pigs, poultry, horses, dogs, cats and rabbits for stabilized gut health and digestion.
Alltech's technologies are supported by constant research and move the industry forward to meet the challenges of animal production with nutritional solutions.
Greenhouse gas emissions and sustainability are top-of-mind for Alltech. That's part of the reason we created Yea-Sacc, a specifically designed yeast culture.
Thanks to Yea-Sacc's unique ability to contribute to ruminant performance in beef and dairy cattle, feed rations are used more efficiently to support feed conversion ratios, to allow for higher quality milk and to facilitate animals reaching an earlier slaughter age.
Proactive and responsible farmers and ranchers can be confident that Yea-Sacc will support the health and welfare of their animals, as well as their own profitability. As a result, climate care is protected, and the carbon footprint of their farms is affected, too.
Colic is a scary issue for horses. Horses are comforted by a stable routine but also require the correct amount of nutritional feed to maintain good health. Sometimes, however, events like travel, performing, deworming, antibiotic treatments or surgery occur, and routines and feed are compromised as a result.
Alltech's Yea-Sacc yeast culture can help in those stressful times.
Many factors lead to the digestive upsets and abdominal pain associated with colic in horses. Gas buildup, grain overload, moldy hay, parasite infection and sand ingestion are all triggers.
Yea-Sacc contributes to normal gut function by buffering against these gastric upsets. Fiber is digested more easily with stronger rumen bacteria, causing energy to multiply. This promotes rumen stability and guards against the wide variations in pH that interfere with digestion and feed intake.
Yea-Sacc can be easily mixed into any horse feed and quickly provides peace of mind for horse owners.
Horses hold a special place in their owners' hearts. And when horses grow older, it's important that they continue eating and drinking to maintain their health.
Yea-Sacc from Alltech can be a solid contributor to an older horse's conditioning.
Digestion and gut health are key for longevity in ruminants. Yea-Sacc helps stimulate good bacteria in the hind gut and assists in the defense of digestive upsets. Additionally, it maximizes nutrient digestibility and provides an uptake of energy.
Yea-Sacc also enhances phosphorus and calcium availability for greater bone strength.
For peace of mind, its powder form can be easily mixed into a horse's dry feed for uniform consumption and bolstered health and vitality.