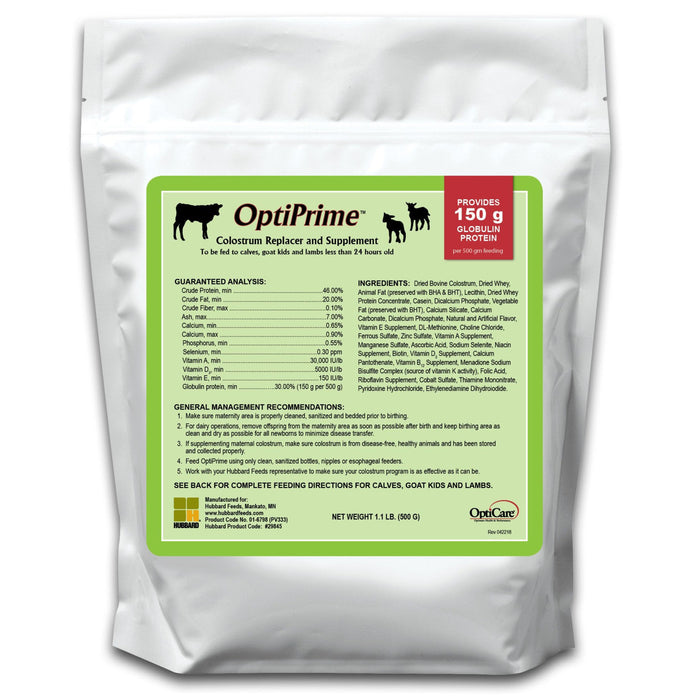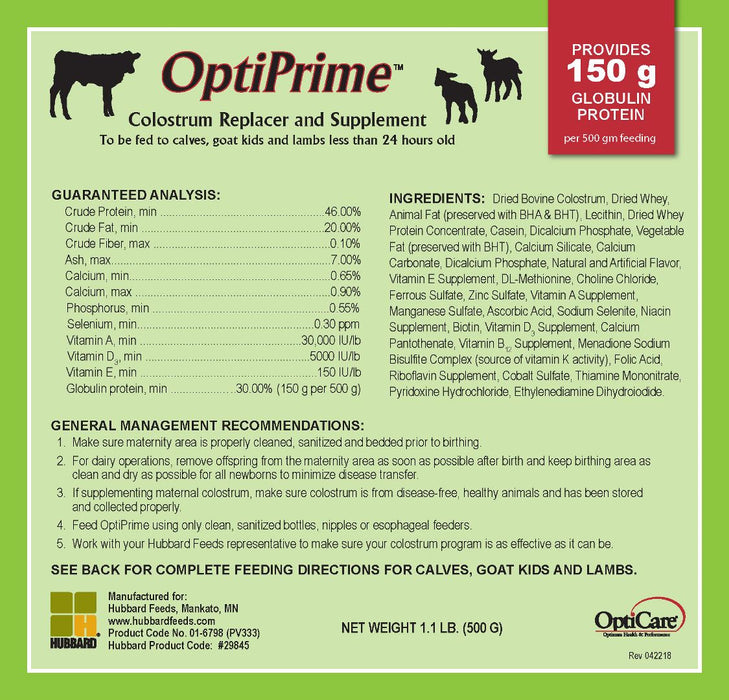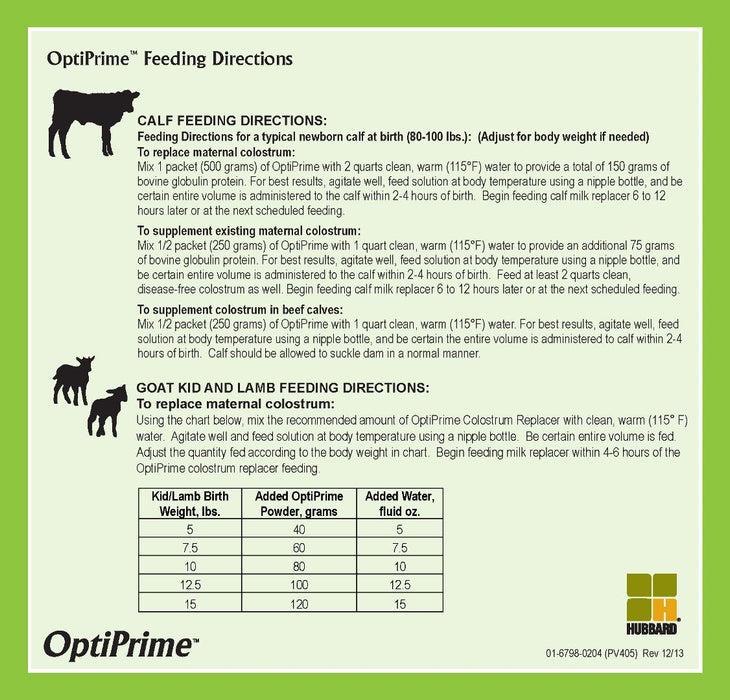 OptiPrime™ Colostrum Replacer and Supplement - 5 Pack
by Alltech
Colostrum replacer for newborn calves, goat kids, and lambs
5 Pack - 500 g Packets 
Product Features
1. Provides up to 150 grams of globulin protein to newborn calves, goat kids and lambs. Multi-dose provides the option to feed 200 grams of globular protein.
2. Fortified with essential fatty acids, vitamins and minerals.
3. Instant formula for easy mixing and convenient use.
General Information
OptiPrime™ Colostrum Replacer contains globulin proteins derived from bovine colostrum and is to be used in situations where maternal colostrum is unavailable or is of unknown quantity or quality. OptiPrime can also be utilized as a colostrum supplement.

Maintaining a consistent supply of good quality colostrum for newborn calves, goat kids and lambs is often a challenge. A colostrum replacer can be a suitable alternative for maternal colostrum in the following cases: Biosecurity, quantity, quality, convenience, cleanliness
Ingredients 
Dried whey protein concentrate (from first and second milkings), animal fat (preserved with BHA, BHT and citric acid), dried whey, dicalcium phosphate, dried whey protein concentrate, dicalcium phosphate, vegetable fat (preserved with BHT), calcium carbonate, lecithin, DL-methionine, sodium silico aluminate, artificial flavor, vitamin E supplement, maltodextrin, ferrous sulfate, magnesium sulfate, choline chloride, zinc sulfate, vitamin A supplement, manganese sulfate, ascorbic acid, mineral oil, sodium selenite, niacin supplement, biotin, vitamin D3 supplement, calcium pantothenate, calcium iodate, vitamin B12 supplement, menadione sodium bisulfite complex (source of vitamin K activity), riboflavin supplement, folic acid, thiamine mononitrate, cobalt sulfate, pyridoxine hydrochloride, natural flavor.
Guaranteed Analysis
Crude protein (min) 46%
Crude fat (min) 20%
Crude fiber (max) 0.1%
Ash (max) 7%
Calcium (min) 0.65%
Calcium (max) 0.90%
Phosphorus (min) 0.55%
Selenium (min) 0.30 ppm
Vitamin A (min) 30,000 IU/lb.
Vitamin D3 (min) 5,000 IU/lb.
Vitamin E (min) 150 IU/lb.
Globulin protein (min) 30% (150 g per 500 g).
Directions for Use
Calf Feeding Directions -- To replace maternal colostrum:
Mix one packet (500 grams) OptiPrime with two quarts clean, warm (115°F) water to provide a total of 150 grams of bovine globulin protein. For best results, agitate well, feed solution at body temperature using a nipple bottle. Be certain the entire volume is administered to the calf within 2–4 hours of birth. Begin feeding calf milk replacer 6–12 hours later or at the next scheduled feeding.
Goat Kid & Lamb Feeding Directions:
500 gram packet
Using the chart below, mix the recommended amount of OptiPrime Colostrum Replacer with clean, warm (115°F) water.  Agitate well & feed solution at body temperature using a nipple bottle.  Be certain entire volume is fed.  Adjust the quantity fed according to the body weight in chart.  Begin feeding milk replacer within 4-6 hours of the OptiPrime Colostrum Replacer feeding.
Kid/Lamb
Birth weight, lbs.

Added OptiPrime Powder, grams

Added Water,
fluid oz.

5

40

5

7.5

60

7.5

10

80

10

12.5

100

12.5

15

120

15
Cautions and Warnings
For animal use only.  Not for human consumption.
Make sure maternity area is properly cleaned, sanitized and bedded prior to calving.
For dairy operations, remove calf from its mother and maternity pen as soon as possible after birth to minimize any disease transfer issues.
If supplementing maternal colostrum, make sure colostrum is from disease-free, healthy animals and has been stored and collected properly.
Feed OptiPrime using only clean, sanitized bottles, nipples or esophageal feeders.