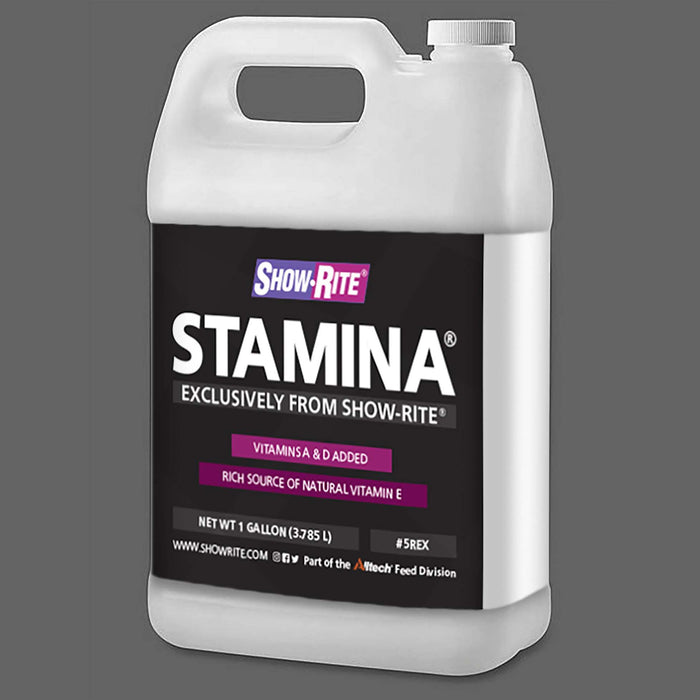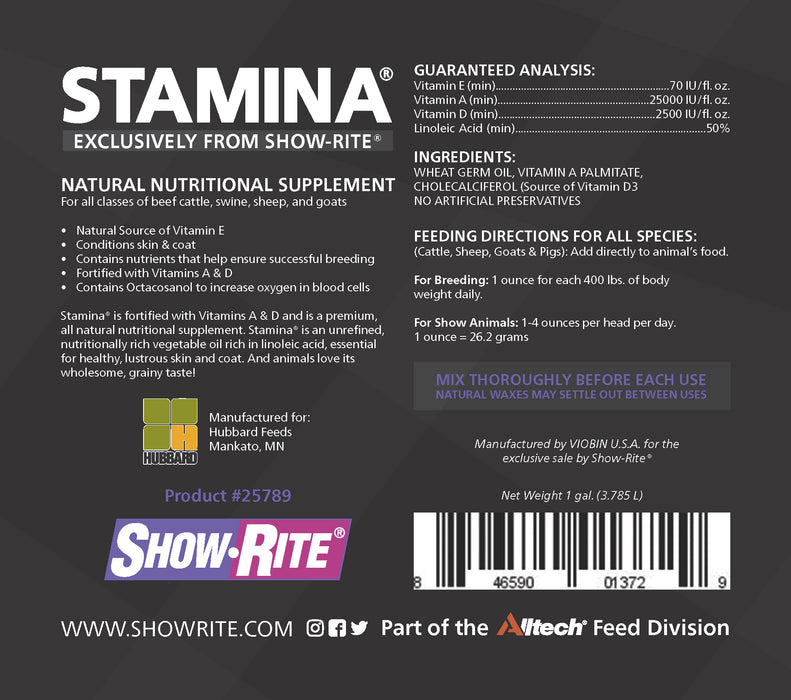 Show-Rite® Stamina® Supplement for Cows, Sheep, Goats, Pigs & Horses
by Alltech Store
Natural nutritional supplement for healthy cattle, sheep, goats, and pigs
1 gallon Jug
Product Features
Natural source of Vitamin E
Conditions skin and coat
Contains nutrients that help ensure successful breeding
Fortified with Vitamins A and D
Contains Octacosanol to increase oxygen in blood cells
General Information
Stamina®  is fortified with Vitamins A & D and is a premium, all natural nutritional supplement. Stamina® is an unrefined, nutritionally rich vegetable oil rich in linoleic acid, essential for a healthy, lustrous skin and coat. And animals love its wholesome, grainy taste!
Ingredients 
Wheat germ oil, vitamin A palmitate, cholecalciferol (source of vitamin D3).
Guaranteed Analysis
Vitamin E (min) 70 IU/fl.oz
Vitamin A (min) 25,000 IU/lb
Vitamin D (min) 2,500 IU/lb
Linoleic Acid (min) 50%
Directions for Use
For All Species (cattle, sheep, goats, pigs and horses): Add directly to the animal's food.
For Breeding: 1 oz for each 400 lb of body weight daily.

For Show Animals: 1–4 oz per head per day. 1 oz = 26.2 grams. 
Mix thoroughly before each use. Natural waxes may settle out between uses.

Feeding Tips: Supply a source of clean, fresh water at all times. Make feed changes gradually, over at least a 5-day time period. Never feed any feedstuffs that are moldy, musty or suspect in any way.