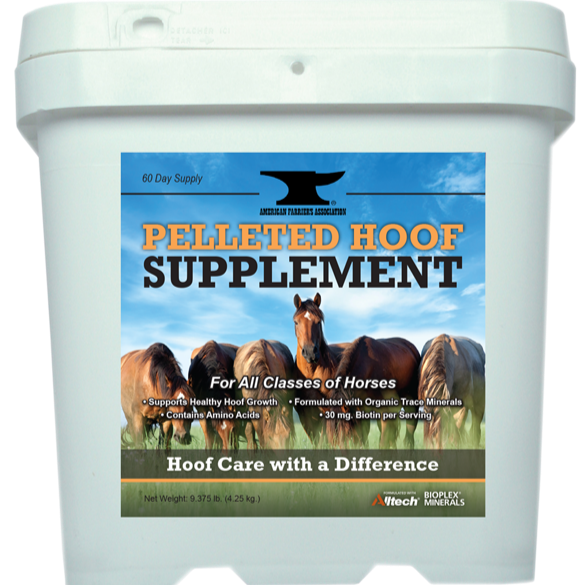 American Farrier's Association(AFA) Pelleted Hoof Supplement
by American Farrier's Association
Hoof Care With A Difference
This American Farriers Association product is a premium pelleted hoof supplement for all classes of horses and ponies. It is formulated to provide optimum levels of nutrition for strong healthy hooves. Healthy hooves have fewer cracks, stronger walls and will hold shoes better. 
Compare the AFA Hoof Supplement with other popular branded hoof supplements in order to see how this product provides "Hoof Care with a Difference".
General Information:
The optimum blend of key nutrients to support strong & healthy hooves (per 2.5 oz. serving):
30 mg. Biotin
250 mg. Zinc
5,100 mg. Methionine
120 mg. Copper
1,250 mg. Lysine
435 mg. Vitamin C
9 IU/lb. Vitamin E
Fortified with organic trace minerals and vitamins to provide nutrient balance.
Made with alfalfa meal & rice bran for enhanced palatability.
Approximately 60 daily servings for 1 adult horse (1,100 lb.)
Feeding Instructions (1,100 lb. horse):
The enclosed scoop holds approximately 2.5 oz.
Feed 1 scoop (2.5 oz.) per day for 6-8 months.
After 6-8 months you can change to a maintenance level of ½ scoop (1.25 oz.) per day.
If problems persist, resume feeding at 2.5 oz. per day.
The product can be given as a top-dress to daily feed or grain ration.
Adjust the amount given based on the weight of the animal. Higher amounts to larger horses, and lower amounts to smaller horses.
Ingredients:
Dehydrated alfalfa meal, soybean meal, stabilized rice bran, DL-methionine hydroxy analogue, molasses products, calcium carbonate, rice hulls, ground flax, vegetable oil, ascorbic acid, zinc proteinate, calcium phosphate, L-lysine, copper sulfate, zinc sulfate, yeast culture, manganese proteinate, copper proteinate, mineral oil, biotin, montmorillonite clay, sodium sulfate, sodium metabisulfite (a preservative), cobalt proteinate, vitamin E supplement, natural and artificial flavoring, calcium iodate.
Guaranteed Analysis:
| | | |
| --- | --- | --- |
|   | Guarantee | Per 2.5 oz. |
| Crude Protein (min)  | 0.19 | 13.5 g. |
| Lysine (min) | 0.0176 | 1.25 g. |
| Methionine (min) | 0.0719 | 5.1 g. |
| Crude Fat (min) | 0.064 | 4.5 g. |
| Crude Fiber (max) | 0.13 | 9.2 g. |
| Acid Detergent Fiber (max) | 0.18 | 12.7 g. |
| Neutral Detergent Fiber (max) | 0.24 | 17.0 g. |
| Calcium (min) | 0.012 | 850 mg. |
| Calcium (max) | 0.017 | 1,204 mg. |
| Phosphorus (min) | 0.006 | 425 mg. |
| Copper (min) | 1.700 ppm | 120 mg. |
| Zinc (min) | 3,525 ppm | 250 mg. |
| Biotin (min) | 200 mg/lb. | 30 mg. |
| Vitamin C (min) | 2,800 mg/lb. | 435 mg. |
| Vitamin E (min) | 60 IU/lb. | 9 IU |
|   |   |   |