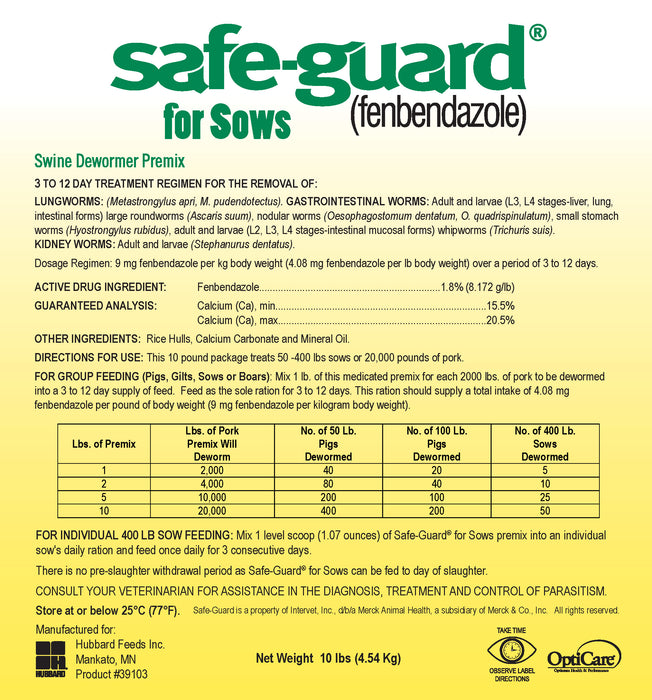 Safe-guard® Premix Dewormer for Pigs
by Alltech
Swine Dewormer Premix
10 lb Pail
Product Features
Medicated dewormer for swine.
3-12 day treatment regimen
No withdrawal period.
General Information
For the removal and control of: Lungworms: (Mestastrongylus apri, Metastrongylus pudendotectus). Gastrointestinal worms: Adult and larvae (L3, L4, stages, liver, lung, intestinal forms), large roundworms (Ascaris suum); nodular worms (Oesophagostomum dentatum; Ornithostrongylus quadrispinulatum); small stomach worms (Hyostrongylus rubidus); Adult and larvae (L2, L3, L4 stages – intestinal mucosal forms) whipworms (Trichuris suis); Kidney worms: Adult and larvae (Stephanurus dentatus).
Ingredients 
Active Drug Ingredient: Fenbendazole 1.8% (8.1475 g/lb)

Ingredients: Rice Hulls, Calcium Carbonate, Mineral Oil
Guaranteed Analysis
Calcium (min) 15.5%
Calcium (max) 20.5%
Directions for Use
This 10 lb package treats (50) 400 lb sows or 20,000 lb of pork.

For Group Feeding (pigs, gilts, sows or boars):
Mix 1 lb of this medicated premix for each 2000 lbs of pork to be dewormed into a 3 to 12 day supply of feed. Feed as the sole ration for 3 to 12 days. This ration should supply a total intake of 4.08 mg
fenbendazole per pound of body weight (9 mg fenbendazole per kilogram body weight).

For Individual 400 lb Sow Feeding:
Mix 1 level scoop (1.07 oz) of Safe-Guard® for sows premix into an individual sow's daily ration and feed once daily for 3 consecutive days.

See product label for additional feeding directions.

No withdrawal time is required.
Cautions and Warnings
Consult your veterinarian for assistance in the diagnosis, treatment and control of parasitism.
Store at or below 25°C (77°F).
Dewormer products are intended for animal use only.