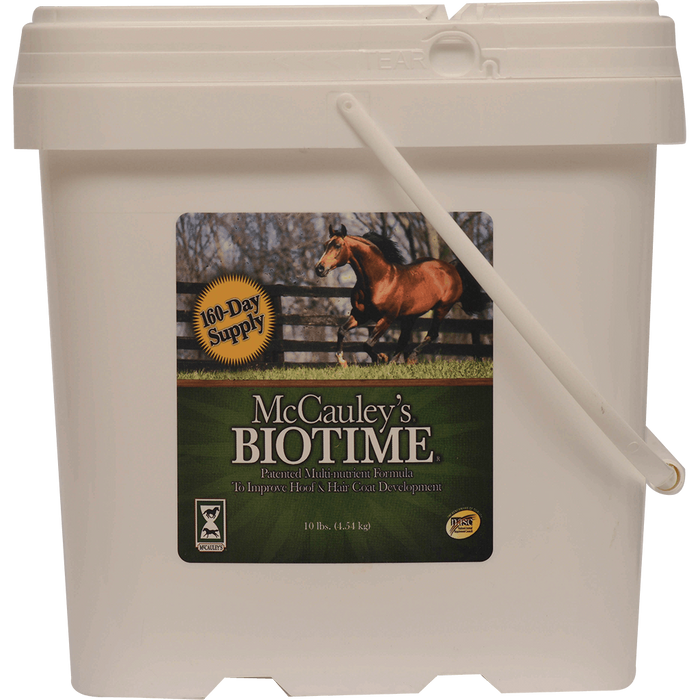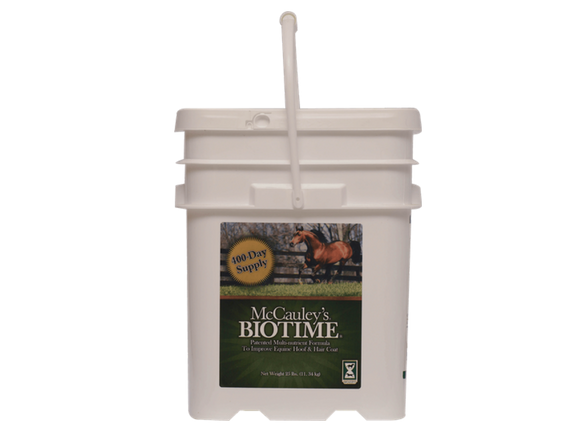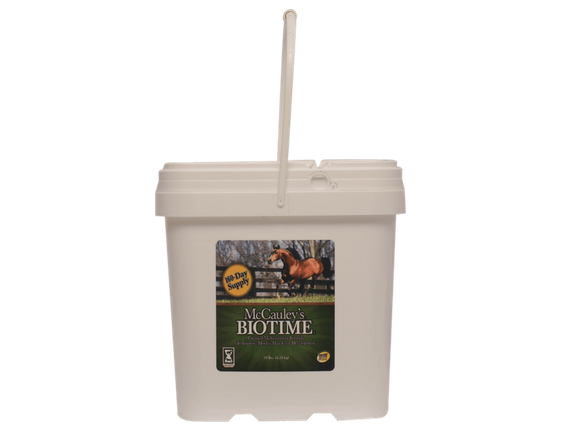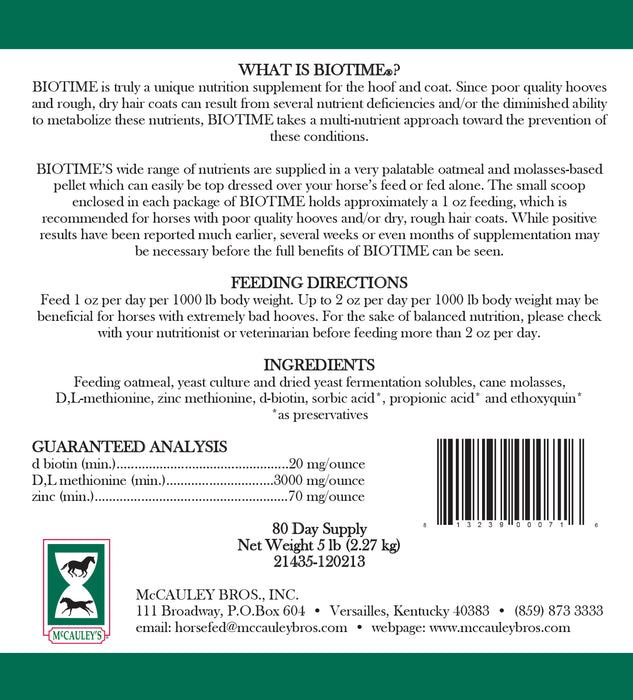 McCauley's® Biotime® Hoof and Coat Supplement for Horses
by Alltech
Promote healthy hooves and coat with this patented supplement for horses. 

Product Features
Patented formula with proven results.
Fortified with nutritionally significant levels of biotin, methionine, zinc methionine and yeast culture.
Highly palatable formula that horses love.
General Information
McCauley's® Biotime®  is truly a unique nutrition supplement for the hoof and coat. Since poor quality hooves and rough, dry hair coats can result from several nutrient deficiencies and/or the diminished ability to metabolize these nutrients, Biotime takes a multi-nutrient approach toward the prevention of these conditions.
Biotime's wide range of nutrients are supplied in a very palatable oatmeal and molasses-based pellet which can easily be top dressed over your horse's feed or fed alone. While positive results have been reported much earlier, several weeks or even months of supplementation may be necessary before the full benefits of Biotime can be seen.
Ingredients 
Feeding oatmeal, yeast culture and dried yeast fermentation solubles, cane molasses, D-L methionine, zinc methionine, d-biotin, sorbic acid (a preservative), propionic acid (a preservative) and ethoxyquin (a preservative).
Guaranteed Analysis (per 1 oz.)
d-biotin (min)..................…. 20 mg
D-L methionine (min)…. 3,000 mg
Zinc (min)…........................ 70 mg
Directions for Use
Feed Biotime® at the rate of 1 oz per 1,000 lb body weight per day. Up to 2 oz per day per 1,000 lb body weight may be beneficial for horses with extremely bad hooves.
For the sake of balanced nutrition, please check with your nutritionist or veterinarian before feeding more than 2 oz per day. 
Biotime® can be top-dressed, mixed in the horse feed, or fed alone.