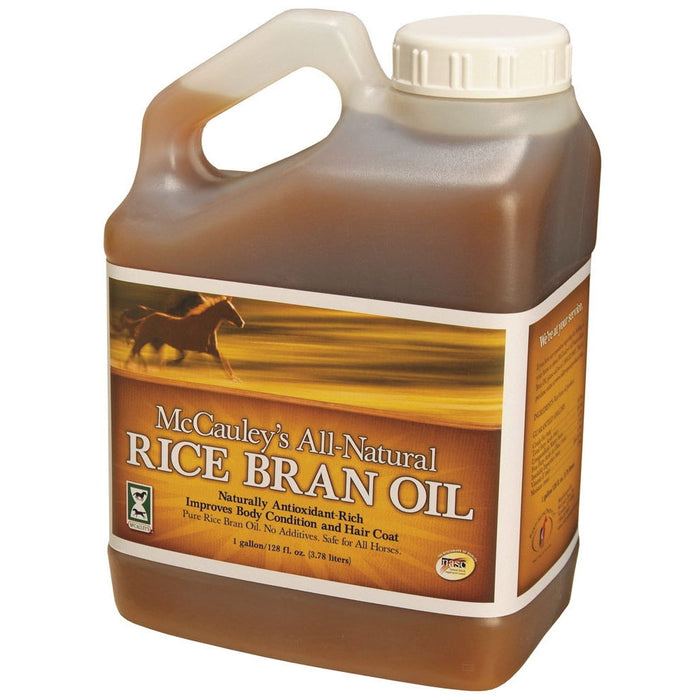 McCauley's All-Natural Rice Bran Oil for Horses
by Alltech
When it comes to the horse's appearance and well being, all-natural makes all the difference
1 gallon Jug

Product Features
Highly digestible energy source, without the added bulk.
Enhances hair coat and body condition.
Contains naturally high levels of antioxidants.
General Information
McCauley's All Natural Rice Bran Oil is excellent for improving the body condition of horses.
This product is loaded with natural forms of antioxidants (vitamin E & gamma oryzanols) which support overall health and development.
Ingredients 
Rice bran oil product.
Guaranteed Analysis
Crude fat (min) 95%
Total fatty acids (min) 85%
Unsaponifiable matter (max) 6%
Free fatty acids (as oleic) (max) 7%
Insoluble impurities (max) 0.5%
Vitamin E (min) 200 IU/lb
Moisture (max) 0.5%
Directions for Use
McCauley's All Natural Rice Bran Oil should be top-dressed or mixed with feed. As a rule of good feeding practices, Rice Bran Oil should be introduced gradually. The amounts are for an average size riding horse (1,200 lb. body weight). The actual amount should be adjusted according to the body weight of the horse.
For skin & coat condition: Feed 2–4 oz. per day.
For weight gain: Feed 4–8 oz. per day. (as with any oil, feeding too much may result in loose stools.)
To ensure freshness, we recommend McCauley's All Natural Rice Bran Oil be consumed within 60 days after opening.
SHAKE WELL BEFORE USING: some of the natural components, such as lecithins and gamma oryzanol have a tendency to settle. Shaking will easily remix all of the components.
Cautions and Warnings
Shake well before using.