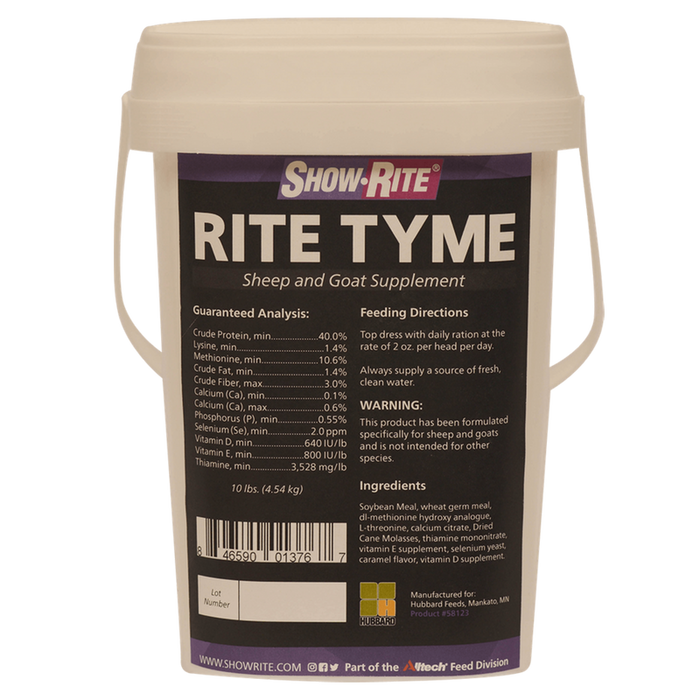 Show-Rite® Rite Tyme™ Sheep and Goat Supplement
by Alltech
Top-dress supplement for all classes of sheep and goats
10 lb Pail
Product Features
High levels of protein to support muscle development
Formulated with Lysine and other key amino acids
Convenient to feed
General Information
High protein top-dress, specialty formulated for sheep and goats to add lean muscle shape and intensify definition.
Ingredients 
Plant protein products, wheat germ meal, L-threonine, dl-methionine hydroxy analogue, calcium citrate, calcium carbonate, thiamine mononitrate, vitamin E supplement, selenium yeast, artificial flavoring, roughage products, vitamin D-3 supplement, mineral oil.
Guaranteed Analysis
Crude protein (min) 40%
Lysine (min) 1.4%
Methionine (min) 10.6%
Crude fat (min) 1.4%
Crude fiber (max) 3%
Calcium (min) 0.1%
Calcium (max) 0.6%
Phosphorus (min) 0.55%
Selenium (min) 2 ppm
Vitamin D (min) 640 IU/lb.
Vitamin E (min) 800 IU/lb.
Thiamine (min) 3,528 mg/lb
Directions for Use
Top-dress with daily ration at the rate of 2 oz per head per day.
Always supply a source of fresh, clean water.
Cautions and Warnings
This multi-species product has been formulated specifically for sheep and goats and is not intended for other species. This multi-species product is formulated without added copper. For optimal goat performance, an additional source of copper is required.