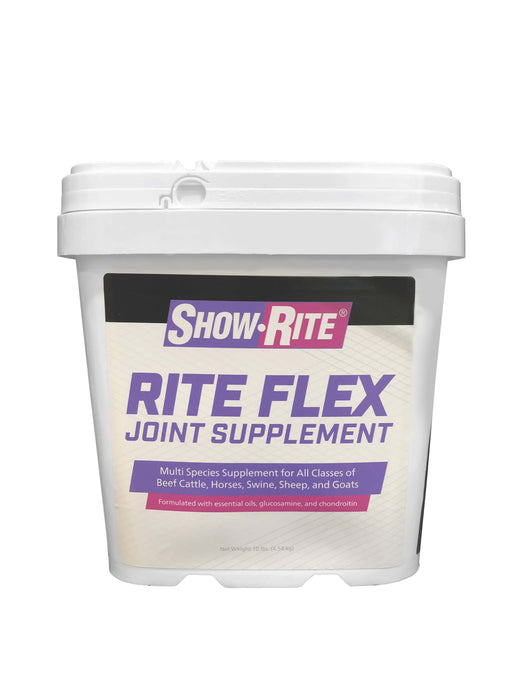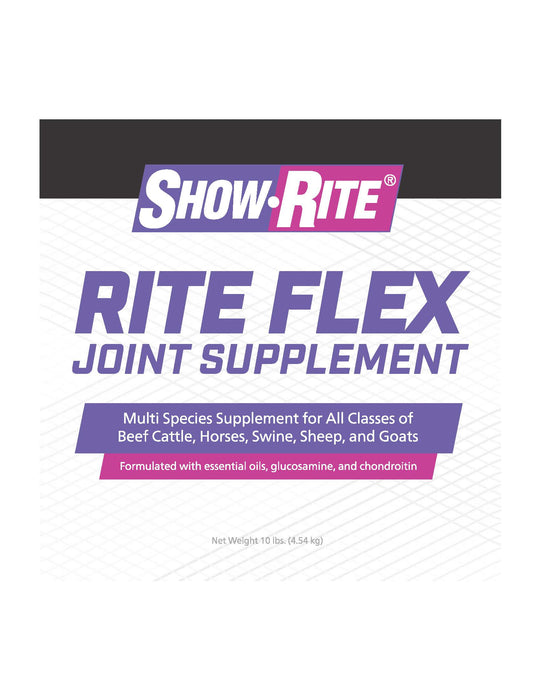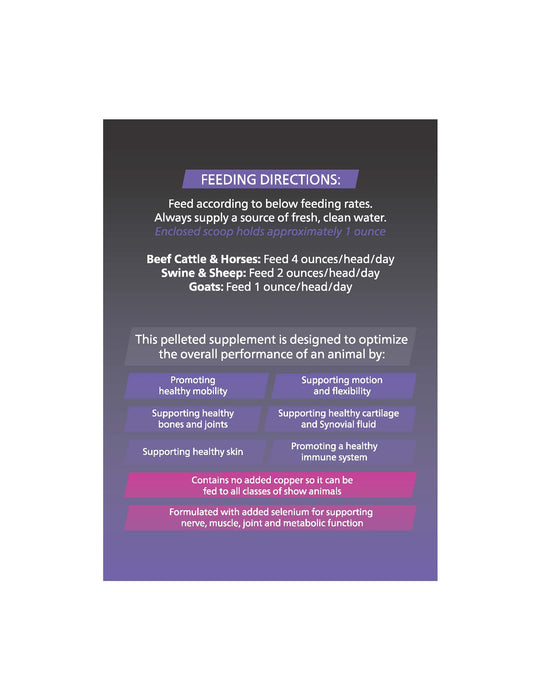 Show-Rite® Rite Flex
by Alltech Store
Show-Rite® Rite Flex is a product that has shown great benefits in the mobility and flexibility of swine, sheep, goats, beef cattle and horses. 
10 lb. Pail
Product Features
This pelleted supplement is designed to optimize the overall performance of an animal by:
Promoting healthy mobility
Supporting motion and flexibility
Supporting healthy bones and joints
Supporting healthy cartilage and synovial fluid
Supporting healthy skin
Promoting a healthy immune system
Contains no added copper, so it can be fed to all classes of show animals
Formulated with added selenium for supporting nerve, muscle, joint and metabolic function
General Information
Show-Rite Rite Flex is a multi-specie joint supplement that is formulated with essential oils, glucosamine and chondroitin

Ingredients 
Processed grain by-products, roughage products, glucosamine hydrochloride, molasses products, grain products, calcium carbonate, yucca schidigera extract, ascorbic acid, vegetable oil, hydrolyzed yeast, vitamin E supplement, chondroitin sulfate, plant protein products, calcium pantothenate, turmeric, hydrated sodium calcium aluminosilicate, mineral oil, natural flavor, artificial flavor, selenium yeast, menadione sodium bisulfite complex (source of vitamin K activity), biotin, riboflavin supplement, sodium carboxymethylcellulose.

Guaranteed Analysis
Selenium (min) 8.7 ppm
Vitamin E (min) 4,000 IU/lb.
Pantothenic Acid (min) 4,000 mg/lb.
Riboflavin (min) 300 mg/lb.
Menadione (vitamin K) (min) 160 mg/lb.
Ascorbic Acid (vitamin C) (min) 4,000 mg/lb.
*Glucosamine HCL (min) 24,000 mg/lb.
*Chondroitin Sulfate (min) 7,000 mg/lb.
*Not recognized as an essential dietary nutrient
Directions for Use
Beef Cattle and Horses: Feed 4 oz./head/day
Swine and Sheep: Feed 2 oz./head/day
Goats: Feed 1 oz./head/day
Enclosed scoop holds approximately 1 ounce
Always supply a source of fresh, clean water.
Cautions and Warnings
CAUTION: Follow label directions. The addition to feed of higher levels of this premix containing added selenium, is not permitted.
See product label for additional product information and usage instructions